Japan crypto currency status-opinions from the pioneers
2018/07/09
未分類
この記事は約 17 分で読めます。
654 Views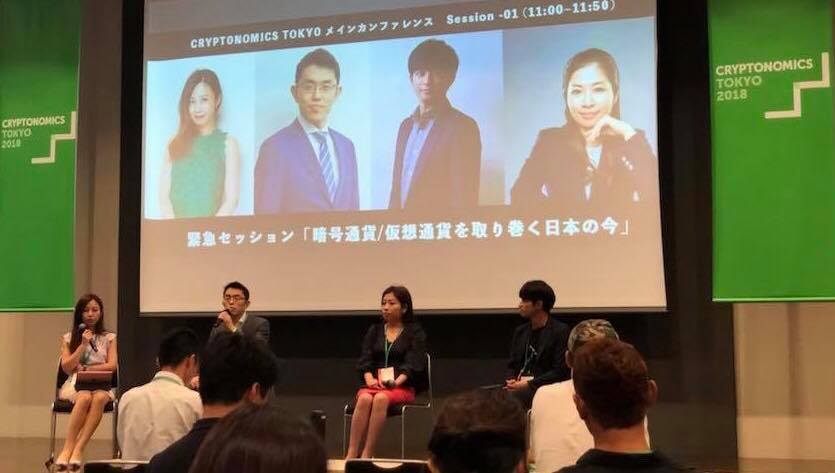 2018 Jun 29, Crytonomics- an event that gathered decentralized services of japan like blockchain, cryptocurrency and token economy- was held in Tokyo Ochanomizu.
I report the session that four pioneers in tax, law, exchanges are joined.
Background of session (Author's comment)
April 1, 2017 Japan implemented the virtual currency bill ahead of the world.
Since the rules were stipulated by law, the world's major players were also noticed, and the Japanese virtual currency market overheated quickly until the end of the year. Taking the price of a bit coin as an example about 10 times. Hopes for Japan to become a world leading country in this field have expanded.
At the beginning of 2018, criticism against this field increased at once with the virtual currency theft case of virtual currency trading company coin check valuation amount of over 60 billion yen.
The Financial Services Agency, which had been moderating the regulations for industrial development so far, had no choice but to enforce regulations harder.
All of the Panelists have been working seriously on this field for several years.
Because They have experienced practicing knowing this industry from a time when Almost people were s not noticed, this time it is an event unique to the fast-moving industry, and it may be that Japan may have experienced it as soon as possible including troubles There was a calm opinion exchange.
Panelist
Moderator:Mai Fujimoto(CEO at Gracone Inc./Miss Bitcoin)
Kento Numasawa(CEO at Aerial Partners Inc.)
Ken Kawai(Partner of Anderson Mori Tomotsune Law Office)
Yokiko Nishimura(Advertise/New project Manager at Moneypartners Inc.)
Contents
Fujimoto: I think Japan went legally leading last year, but I have concern that recently japan are being late.
For example, some exchanges retreated from Japan, Japanese company started to base on abroad, and foreign exchanges don't have Japanese stuff.
The 44% of usage of crypto currency is by Japanese, but it's discussed about nothing will be produced here. I was often asked if Japanese has any products, and then they say "No, isn't it?" How do you think about this situation?
Kawai: The regulations are getting tight. After hacking accident in exchanges, the view towards centralized exchanges model is severe. It came to be regarded as a financial institution.
I want to see if it is because japan develops faster than other countries or just being late.
Nishimura: Until last year, the inquiry that start exchanges in Japan was 200 cases, but it's decreasing sharply this year. In abroad, exchanges are regarded as just the gate of crypto currency and their interest is moving to the way to use. Serious projects are kindly left in japan.
Numasawa: Right. watching the world cup, I recognize that it is difficult to win in the rules.
Now, many people are realizing the importance of working on that rules.
Fujimoto: Exchanges are challenging bravely along the rules. Last week, as you know the business improving order was issued.
Nishimura: I apologies for many players had got the order. We will work on that improvement seriously. From the view since 2015, people in this industry has increased sharply and now it is like the financial institution so that we estimate that distortion has come out. We would like to contribute to the projects that can change the world with taken.
Numasawa: As the venture position, I can say that the interest for blockchain project is getting high in this year despite the discussion was only at exchanges until last year.
Japan had originally enough market in domestic, we were able to make business without knowing overseas trends. But blockchain field is necessary to care about overseas, therefore I expect to see some projects leading the world.
Fujimoto: Back to the topics of exchanges, I heard that the registration of crypto currency exchanges is getting tough, when is going to restart the investigation?
Kawai: The point is the stance of FSA and the voluntary restraint of JVCEA. It must be different between view of IT company and that of financial company.
IT innovation and financial business depositing other assets are both necessary. FSA requires proper response for responsible work as depositing other assets. Over 100 companies are waiting to be listed. It seems that a new movement will come out after summer.
Fujimoto: I know that many blockchain projects are launched, but among them, I would like to know required procedures for taken listed.
Nishimura: First, in the case of token listed projects, as a premise that there is a whitepaper, it has to be started from investigation the exchanges.
Fujimoto: Are the mining and funding regarded as the exchange business?
Kawai: It depends on the type. Basically, the mining is not the exchange business. The Funding is also not the one but depends on the way. Just in case of cloud mining, it could be going to the category of securities.
Normally fund deem to be securities and it related to the financial commerce law. There is exception if the funding is by few people. Mining is not the exchange business because it has the scheme of selling hash power and machine.
One argument is about if PEG coin- linked to the fiat in price- is money, if so, this system is money transferring and currency transaction. When STABLE coin-price is high stable, Peg coin is the one in this case, it's not always being linked 1:1-comes out, it become easier as cryptocurrency regally.
Numasawa: The killer application of blockchain is cryptocurrency so that the key is how to use it. When cryptoner gather, they use cash for drinking because of bothering the tax calculation. This is bad, cannot spread. So, tax system for small payment is being settled. We want to make it happen to be used cryptocurrency as daily use.
 Kawai: Recently, some foreign companies are trying to get the all of required financial license and creating a service more convenient than normal bank transaction. I hope we can get it in Japan as well.
Nishimura: Moneypartners has all licenses, but even so it's difficult to integrate the opinions from stakeholders.
Fujimoto: What happen to DEX-decentralized exchange, each cryptocurrency date can be stocked on the blockchain and manage and exchange by ourselves-? When Atomic swap-direct transaction without mediator- comes out, is it possible to be managed by the nation?
Kawai: Bitcoin originally came out as an antithesis for decentralized Lehman shock. It should be P2P. each token economy is distributed, so binding each economy is related to regulations.
So far, there is no complete DEX. But when it can be done speedy above the certain level, it would become like SI company not exchanges.
Numasawa: It's the Nakamoto philosophy that transaction without mediator from DEX and Atomic-swap. I hope that an individual age is coming, not as talking from stage like this. My wish is the world that each node has trust.
Fujimoto: I'm looking at Ms. Nishimura as a very moderate person who can handle both project's child part and adult part. May I ask you about your vision?
Nishimuta: I'm working at Moneypartners. When I talked about my Vision that can change the value to other things such as getting food by washing dishes, someone said that even purchasing bitcoin takes time, so you must start to work on from that. Sometimes I feel sad that only running exchanges are not enough to realize my vision, but I have positive perspective like Mr. Kawai mentioned.
Kawai: I think the polarization will go progress between financial company and IT venture company. In China, the media have reported that some of major exchanges have hundreds of people engineers and the benefit beyond the global bank.
In addition, it comes to be important how these exchanges face to regulations. It's easy to imagine that G7 countries make the regulations more severe for these huge exchanges. Indeed
In that situations, existing big company and financial institutions will come to easy to join crypto currency transactions.
On the other hand, some venture company will start to sell their own model to these big companies. Japan is getting sensitive because of the coverages telling how it is severe. But it can be said that this strengthen regulation has happened necessarily because japanese have decentralized philosophy since beginning.
Nishimura: my company is doing exchange business, but I have strong interest about how we change the society by managing our data by ourselves and how we support companies. I think what blockchain can change is the way of managing the data.
Numasawa: There are positive and negative news. I would like to consider again what we can do with blockchain. I am paying attention on where is that matching point. Blockchain is innovative, not destructive. I would like to see how blockchain can coexist with existing business and market.
Conclusion
This may just the stagnation period since japan has experienced regulations and accidents speedy.
 DEX  and Atomic-swap
It is expected that the security and transparency can be improved though direct trading of date on the blockchain.
Crypto related businesses require both acknowledge of IT and finance. In the future, it could be go in IT industry. Because DEX  and Atomic swap doesn't deposit financial assets, they provide IT services that implement transactions between parties. (Author's comment added)
Each Panelists insisted that they want to cause the social impact by blockchain rather than cryptocurrency.