Activities of Miss Bitcoin and the future prospects of Japanese virtual currency industry
2018/08/08
未分類
この記事は約 14 分で読めます。
761 Views
Greeting from Miss Bitcoin (Mai Fujimoto)!
Hello everyone! As you may know; my name is Mai Fujimoto or as most people know me in the blockchain community: "Miss Bitcoin".
I am (or was) honored to be able to give this closing talk at SPOT in Hong Kong where some of the brightest minds in the cryptocurrency space are (were) gathered to discuss the future of Blockchain and Crypto. It is certainly an amazing time to be alive to witness this incredible technological revolution unfold in front of our eyes. No doubt though, there will be many ups-and-downs in this nascent technology but I have no doubt that we will see some incredible new developments for this asset class over the next 12 to 24 months that will change the world we live in for the better.
First of all, let me tell you the purpose of this conference.
This conference will look to discuss; 'virtual currencies and the new way of transacting while making comparison to the current, old and slow fiat based financial systems. We will also examine, "token due diligence", "fund and exchanges", "security, liquidity and danger surrounding cryptocurrency as an asset class". In attendance will be regulatory officials and virtual currency specialists from the world and they will be talking about the flow of funds from the old world into the new decentralised world of blockchain and there is no better place to hold this event than The Hong Kong Stock Exchange.

MAI's greeting · It is amazing. As a person in the industry since 2011.
Thank you very much for inviting me today. It's a great honor for me to be here and I will do my best speak in English.
First of all, it is wonderful that we are having these amazing conferences and I would like to show great respect to all the people who put this conference together. I would like to give you all a little background about my story as well. I have been involved in Bitcoin since 2011, but I could not imagine that such an event would be held on the Hong Kong stock exchange! We are all in the front of innovation; not bystanders and we can see history changing in front of our eyes and we all involved in this amazing revolution.
It is believed that only 10% of the World's population holds virtual (or crypto) currency but as we can see the growth of this nascent technology and wide spread market adoption, I am convinced that more and more people will embrace this virtual decentralised currency. The true democratisation of the financial system is on its way … how very exciting.
Well, let me now tell you about; 1) the current situation of (kaso-tsuka) or as the Japanese call it "Virtual Currency", 2) How I see Cryptocurrency evolving and 3) Share what I am doing to help the development of Cryptocurrency globally.First Graconne, second withB and third one is KIZUNA.

What are the three projects MissBitcoin does?
Graconne comes from gravitation and connect. I am working hard to connect people in this market and cause a new chemical reaction.
My company, Gracone began as a small company and has grown beyond my expectations. As the CEO of Gracone; I get many-many enquiries from people around the world who are passionate about Cryptocurrency and Blockchain. We are all very excited and believe in this space and want to help the growth of this industry.
As you can see, major companies are also entering the virtual currency business. Yahoo Japan! will open a virtual currency trading service through its subsidiary and will start service in the Autumn of 2018. DMM.com opened a mining business for multiple virtual currencies. We also saw big announcements and advertisements on the world-famous intersection on Shibiya crossing as companies scrambled to throw massive signs up … like DMM. GMO Internet is another famous company who I advise for and as you know have developed a next generation mining machine … I am sure you have read about their 7nm mining chip.

1.MissBitcoin has a Youtube channel
I am doing activities to expand the information by conducting interviews on the Youtube channel and take part in amazing events like this.
Be the way….The best interview I did was the interview to the most famous dog in Crypto. You know this dog! Right?


2.MissBitcoin began a recruitment company
I am also running a company called WithB, this is the recruiting company focused on crypto and blockchain.
In this February, I organised a job fair event for engineer and 23 companies exhibited in the fair including major Japanese exchanges.
From this viewpoint; you can see as the cryptocurrency and blockchain market in Japan grows at such a rapid pace, securing human resources is an urgent task and critical for new projects to grows: it is critical to attract the right human capital.

3.Possibility of donation and virtual currency
My last project KIZUNA runs a platform to donate by Bitcoin or BitcoinChas. One project on the platform raised 9BTC, which is about 760 million Japanese yen now.
I would now like to talk about something that I am very passionate about and that is setting up charities using Cryptocurrency … About two weeks ago, West Japan suffered major damage through flooding and landslides that resulted in over 200 deaths. So, I decided to help organise and set up a donation fund where we managed to collectively raise 100 million yen. I am very grateful a though this amazing trend underpinned my virtual currency we can see positive trends.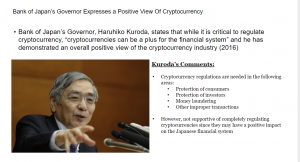 View on Japanese virtual currency business, law, regulation of Miss Bitcoin.
For a long time in Japan, cryptocurrency had a serious image problem. Was this due to scandals like Silk Road or Mt Gox? What we now know is negative news like this has damaged perceptions of cryptocurrency as an asset and investor confidence. Like it or not, this has resulted in stricter rules from global regulators?
We only have to look at history to know that policy and law makers have never kept pace with new technology and this is very much the case again with fast technical advancements in cryptocurrency. We have seen this over the past year with the SEC and CFTC as they struggled to understand and create laws that will protect consumers. An example of this was the US government referring back to the Howey Test – passed in the 1930's by the way – to determine if some ICO and tokens where deemed as securities. ​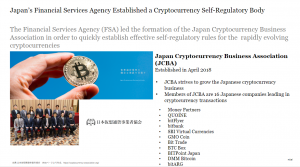 From where I sit we are seeing a growth in self-regulatory bodies like the JCBA who are working very closely with law firms, traders and the FSA to name a few so I am confident that we will find the right mix between practicality and regulatory rigor.
So, what I am really saying is that, virtual currency is not an asset class that develops and grows in a healthy manner if the regulation is loose and unsupervised. To quote a monetary principle of Gresham's law; "bad money drives out good". It can be said that Japan has gained valuable experience and is leading other countries in this field and I strongly believe the Japanese FSA is the most experienced and knowledgeable regulatory agency in the World when it comes to cryptocurrency …. so hopefully …. the right balance will be struck when looking to protects consumers while not hindering entrepreneurs.
As the Japanese Financial Services Agency and the virtual currency community continue to have ongoing discussions, it is probably the first in the world to create a highly effective self-regulatory body. By doing so, I anticipate that Japan does not abandon its ambition to become a World leader when embracing virtual currency and which will eventually pave the way for mainstream adoption.
Finally the future Miss Bitcoin schedule
I will travel around the world in this year.  See you there !  Follow my  Twitter here!(https://twitter.com/missbitcoin_mai)